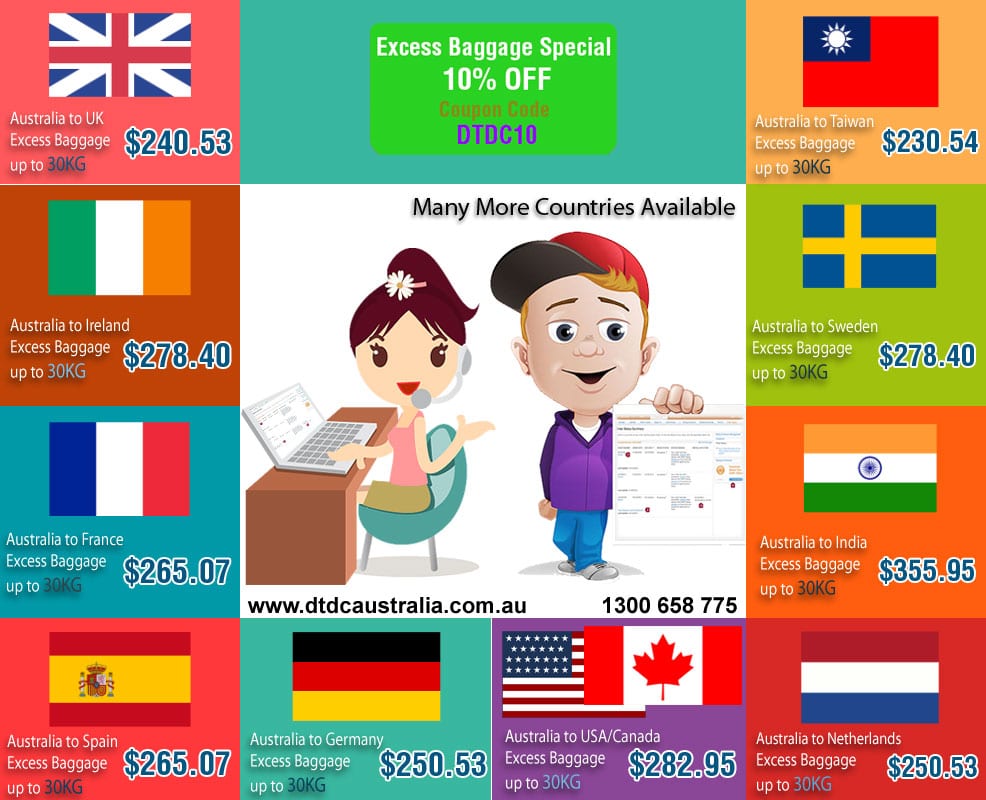 Excess Baggage International Delivery Courier : Anywhere in The World
DTDC Australia understands that the world has much Excess Baggage to offer and there are many people who love to travel either as an international student, business trip, as a backpacker, or maybe just for a holiday.


Whatever the case may be, we understand excess baggage can be expensive via airlines. Which is why DTDC Australia offers a cheap excess baggage international delivery service to New Zealand, UK, Ireland, France, Spain, Germany, Netherlands, Italy, Europe, India, and all over the world. Our international baggage delivery service is based on approximately 7 – 14 business days to all over the world which is fully traceable with signature on delivery.


Travel takes you into the wondrous world of ecstasy by bringing love, zeal & pleasure back into your life. You could step into this world for multiple reasons; it could be as a student, a tourist, new beginnings or just a visit to the long lost family.
Whatever the case, sometimes, you might end up with excess baggage.


We are aware of the fact that when you are traveling to a new geographical location, you need to carry quite a lot of your belongings. And if you plan to fly out with all this baggage Australia wide or to any other country for that matter; it can be expensive. It's at times like this, when you can rely on DTDC Australia. We are one of the most reputed & trustworthy courier services in Australia and worldwide. Just give your baggage worries to us and we'll impeccably handle them for you. Get in touch with us &, we will sort out any queries which you might have. We will help you out by offering an inexpensive &, affordable international delivery to any country throughout the world. Usually, our international delivery time varies from 7 to 14 business days.


We also deal in excess baggage Australia delivery. If it is within the same state, delivery is done on the same day itself. Our delivery system operates from door to door, be it Australia wide or Internationally along with being trackable, furnishing reliability of signature on delivery. So you can stop fretting over your luggage & solely focus on your travel.


Both domestic and international services are door to door, so you do not need to worry about leaving your home or office as we will collect direct from your door.